our history
Choppers Bar and Grill opened in May 2006. We have done a complete remodel, as we wanted to bring back a family restaurant-bar to the community. We now have a full wrap around bar with open dining area in the back so you can bring the family.
Outside includes a large deck on the channel with boat parking on channel off Channel Lake. There is also covered heated smoking area for cold weather.
We have reserved motorcycle parking and snowmobile access.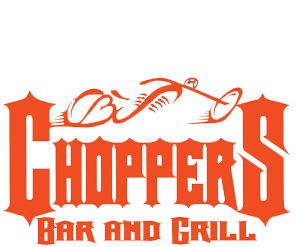 few words about us
This is a great place to have holiday/birthday parties or your social gathering. Food and Entertainment Available.
You won't miss a thing with our 7 large TV's to watch all the games. We have specials and Give-Away promotions during the games.
We have live entertainment play on weekends. Please check our events page to see the latest talent we have here.
Choppers has Pool, Darts, and Baggo Tournaments. Bring your team or join ours!!
TEStimonials
"What a great place to come to have a few beers and relax after a hard day of work."John K.
"I got my drink on at Choppers ."Laura
"The breakfast on the weekends is killer. The portions are generous and hits the spot."Tanya